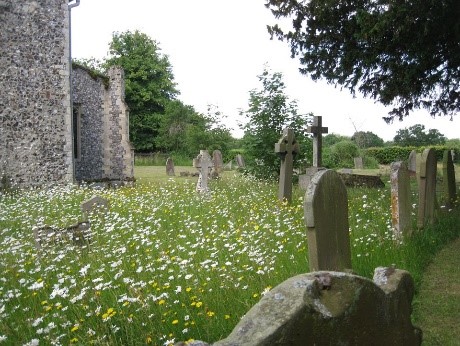 Caring for creation (or God's Earth?) in the churchyard
What happens next is up to all of us (David Attenborough)
The need to provide a home for plants and animals has never been greater because God's creation is under threat. There are many people within the Church, and many more without, who have a new attitude towards the fragility of life on earth.
They believe that churchyards can set an example of how to live in greater harmony with all creation by becoming havens for wildlife, in addition to being places of burial. This can be achieved quite simply by changes to current management plans and the organisations below contain all the information, advice and inspiration you require to make the necessary adjustments.
Caring for God's Acre
The charity produces an excellent and attractive Action Pack which inspires and contains a wealth of easily accessible information covering the care of burial grounds.
The pack is produced in a ring binder format (or can be downloaded free of charge as pdf sheets) which allows the pages to be easily copied for sharing with others. www.caringforgodsacre.org.uk
Cambridgeshire Wildlife Trust
The Trust offer a Churchyard Conservation Award Scheme, which is supported by the diocese. Once registered, your church works towards the Bronze, Silver or Gold Award and you will be offered at least one free advisory visit. The scoring guide for the Award is clear, which helps provide a focus for planning e.g. the production of a mowing plan of the churchyard, to include a spring wildflowers area, will score 2 points.
Registration for an Award will also help churches which are working towards an Eco Church Award. cambridgeshire@wildlifebcn.org
Norfolk Wildlife Trust
NWT offers a Churchyard Conservation Scheme, supported by the diocese, which provides free plant surveys and management advice to churches, plus an advice pack and information leaflets on specific topics, such as Birds and Hedgerows.
This material can be downloaded from their website free of charge. www.norfolkwildlifetrust.org.uk
Eco Church - an A Rocha UK project
The scheme encourages churches to manage all areas of church life in an environmentally friendly way and covers 5 key areas, one of which relates to the management of church land and biodiversity. Points are gained by the completion of an online and detailed questionnaire across all 5 categories.
The website includes 10 interesting case studies, taken from around the country, of churches which have increased their biodiversity. www.ecochurch.arocha.org.uk
Church of England
The website contains a short film which offers inspiration and encouragement to those wishing to promote biodiversity in their churchyards and includes several case studies. In addition, there are notes on planning, surveys and on specific flora and fauna.