Pippa Blackall will be ordained Deacon at 11am on Sunday 4 Feb at All Saints Church, Boughton.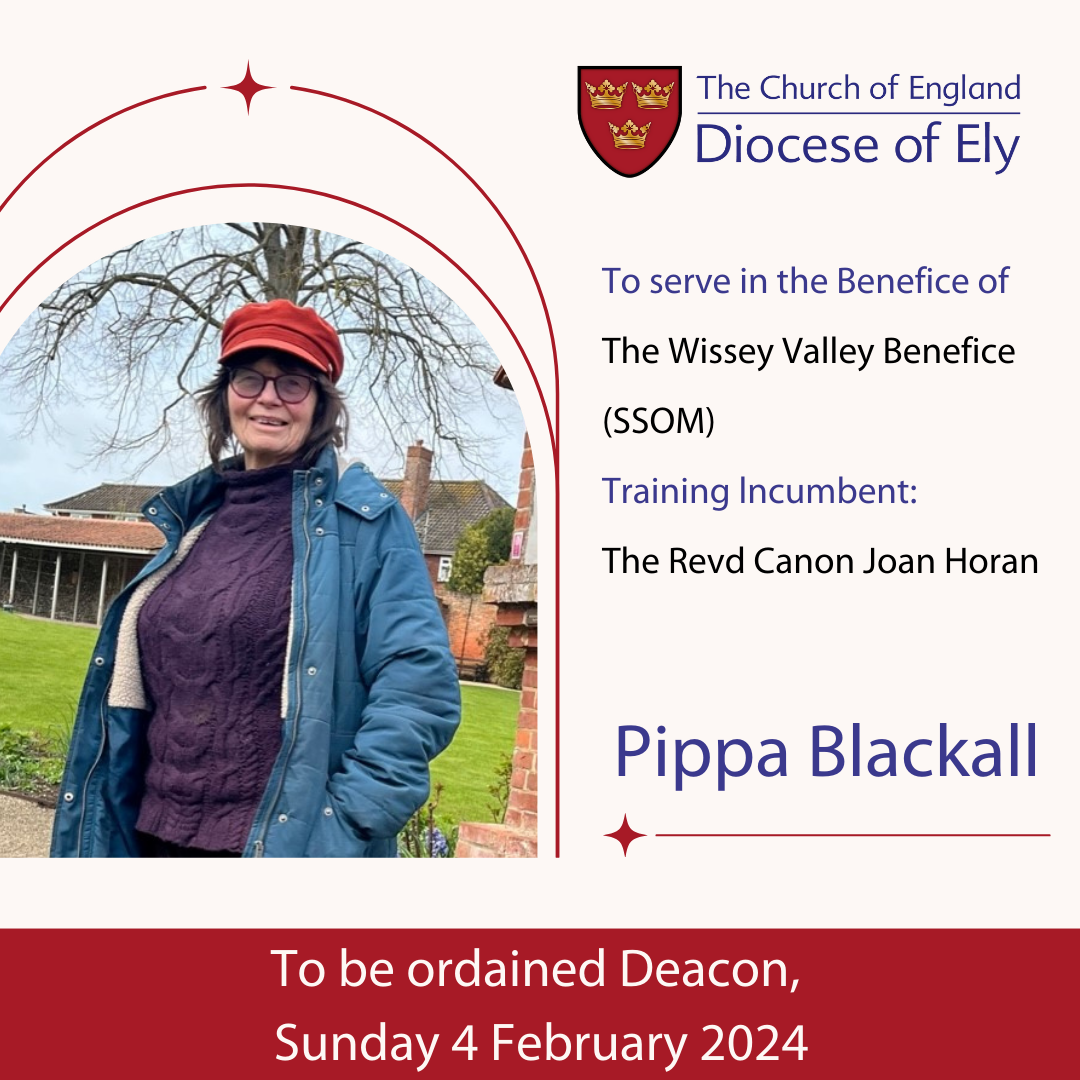 Please join us in praying for Pippa, her loved ones and members of the benfice in which she is to serve as an SSOM.
"I guess I am considerably older than most ordinands having been born in 1949 in North Wales where my military father was Commandant of the Royal Artillery Gunnery school. He and my mother were both Anglo Chileans which made for an interesting background with most of my extended family still living there as I write.
My first fully formed memories are of living in Hong Kong which was on the whole a very good life with lots of sun and swimming and after I was pulled out of a very rough army school and assigned a young governess with two other families, educationally excellent and happy.
Returning to the UK at 9 was a rude awakening, culminating in being sent off to boarding school in anticipation of my father's next foreign posting.
Boarding school in the 60s was a tough experience but gave me resilience and endurance. We also had a very good art teacher which led me to art school and another great teacher which was the foundation of my lifelong profession as an architectural stained glass artist.
I heard the call to ordained ministry in my twenties, before it was actually possible, so my bishop advised me to get the theological qualifications done and become a Reader, which I did. Then I married a rural parish priest, had a daughter with additional needs and was very happy in my busy role on all fronts.
Robin and I both felt one priest in our setup was probably enough, although when he was well into retirement and because of ill health was doing less, he brought up the subject again. At the time of his death just after Easter 2021, I was preparing for an upcoming Zoom version of a BAP, but thought it best to postpone. I finally attended one at Launde Abbey in July this year (2023) via the new process, superbly mentored by the wonderful Catherine Wright (previous DDO in Ely Diocese) who actually made it all an entirely positive experience!"