An exhibition of 120 nativity sets from around the world will go on display in Hemingford Grey this Advent.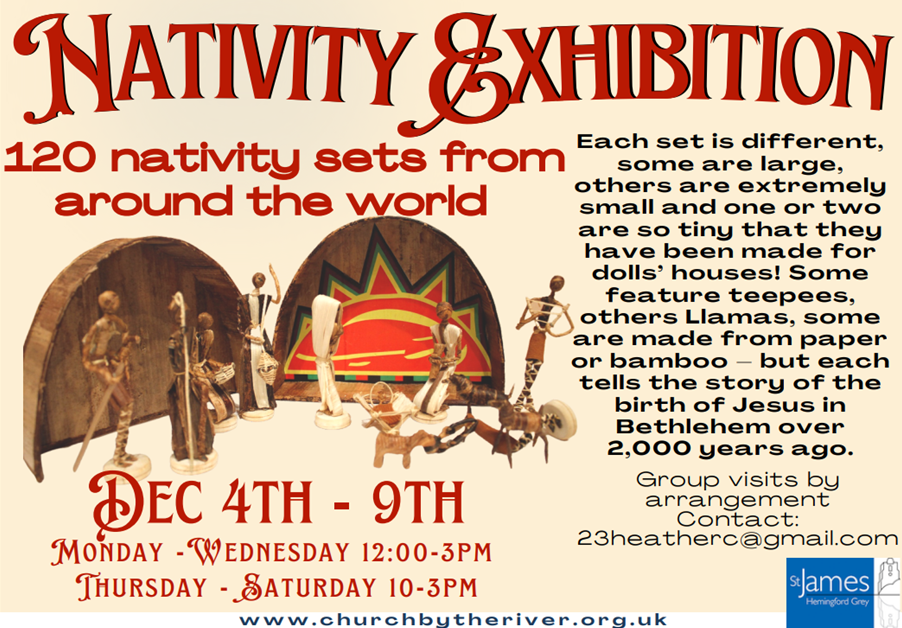 St James' Church in Hemingford Grey is holding a Nativity Exhibition between Monday 4 - Saturday 9 December. The exhibition consists of over 120 nativity sets from around the world. Some are large, others are extremely small and one or two are so tiny that they have been made for dolls' houses!
Each one is different, some feature teepees, others Llamas, some are made from paper or bamboo – but each tells the story of the birth of Jesus in Bethlehem over 2,000 years ago.
The exhibition is open to all and free of charge, any donations received will to go to CBM, who work with a wide range of partners to transform the lives of people with disabilities and build a more inclusive world.
The church will be open between noon and 3.00pm on Monday – Wednesday and from 10am - 3pm from Thursday - Saturday for the public to come and enjoy this unique occasion.
The event will include a children's area - with colouring, nativity play sets and fuzzy felt nativity scenes to design!
Light refreshments will be available at a small charge. Groups can be accommodated during the evenings by special arrangement. The exhibition can even be borrowed by other churches if they wish.
For group bookings or any further information please contact Heather on 23heatherc@gmail.com.
How to find St James' Church: https://churchbytheriver.org.uk/contact/locations/
Pictured here are a selection of the 120 nativity scenes that will be on display. An event not to be missed!