Building community, sparking unexpected conversations, and extending the table.
Earlier this month, more than 60 Licensed Lay Ministers (LLMs) within the diocese of Ely met at the stunning St Mary's Church in Ely, to exchange good news stories, bid farewell to retiring Warden of Readers Steve Mashford, and to welcome Cathy Watts as the new warden of readers.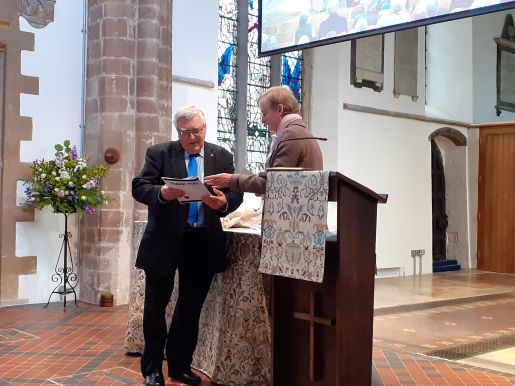 Steve served as warden of readers for 8 years, and was the first warden to also be an LLM himself, a tradition now continuing with the appointment of Cathy. Steve spoke briefly about his experience as warden, recalling the celebrations of 150 years of readers, the many changes that have come about during his term of service, and of course the continuing joke of the special hat that he wore when in the presence of the Bishop!
The keynote speaker for the event was Mike Thompson, an American Episcopal priest who came to Cambridge in 1983 to complete a PhD on the influence of Jesus' teaching and example on the apostle Paul. Mike went on to teach New Testament, Greek and homiletics to ordinands at St John's College, Nottingham for seven years before returning to Cambridge, where he taught and served as Vice-Principal for another 25 years at Ridley Hall, before retiring in 2020. He is the author of several books and articles on Paul, and over the years he led study days for many dioceses.
Mike spoke on 'The Character of Our Preaching', followed by discussion in small groups. There was a palpable atmosphere of positivity, as LLMs from across the diocese shared their Good News stories. It quickly became apparent to all, the range of ministry that our LLMs are involved in, not just on a Sunday morning. The gathering gave a real illustration of the fullness of ministry that takes place as LLMs work alongside the incumbent in our Parishes.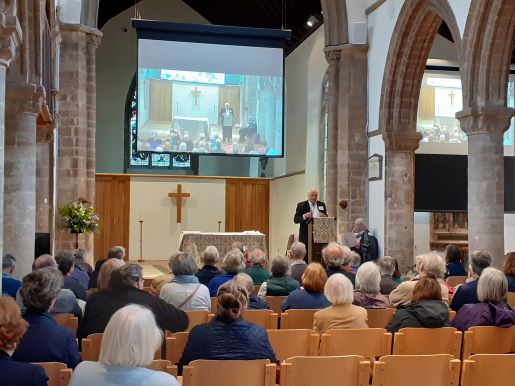 The morning also saw the licensing of Elizabeth Bryson as LLM by Bishop Dagmar. Elizabeth explained that Anna Chaplaincy helps meet the spiritual and religious needs of residents in care homes. Find out more about Elizabeth and Anna Chaplaincy within the Diocese of Ely.
Sharing good news stories
Terry, Linda, and Alison spoke of the success and challenges of their Tuesday mornings, as they open the doors of the Church of the Good Shepherd in Arbury, Cambridge to welcome guests to enjoy the church's hospitality as well as access the local food bank.
"The need for a non-anxious presence is essential in the role. You need to leave your own things at the door and remember that you are not there to solve people's problems, simply to be alongside them, signposting them to resources where you can, and encouraging them to talk with each other."
This approach, together with a light touch in terms of prayer, has allowed guests to become comfortable in their church building. The sense of community between those attending and the volunteers is noticeable, with the latter no longer needing name tags, as people consider them friends as much as hosts. The guests are empowered by taking on helping roles on a Tuesday morning, enthusiastically serving tea, coffee, and cake, whilst the volunteers circulate and talk with the guests. There are times when it admittedly feels heavy for the team, but they counter this by starting each Tuesday by meeting in prayer, to prepare them for the morning ahead.
At a recent community lunch to celebrate the King's Coronation, there were 130 guests sitting down for lunch – with an almost even split between churchgoers and the wider community. The Tuesday morning gatherings have been happening since September 2022 and have become so successful that the Church now plan to look at redevelop the church hall to accommodate the growing numbers. The team, in their own words, are "there to offer what we can, and see what God does with it".
Tim spoke about the runaway success of a table tennis club at Colne, which ran for its first few sessions with just two founding members in attendance. The numbers began to climb as the club was advertised in the Parish magazine, and now has 20 regular members. During Covid restrictions, they were forced to move location from the church hall into the main church, which unexpectedly sparks many conversations with those not familiar with being in a church building. Tim's advice was thus, "Anything that a member of the church is enthusiastic about, encourage it, even if it seems unusual! Success is faithfully doing what God has called you to do."
Rosey, LLM at Great Shelford also advocated for Anna Chaplaincy, telling us about the success of restarting her friendship groups, as community groups come together to explore faith, what things mean, and enjoy being alongside other people. The programme that Rosey puts together at the start of each term becomes secondary, as the groups shape their own journeys.
Barbara helps organise and run a warm hub at Toft from October to April, providing tea, biscuits, board games and jigsaws to more than 20 older people each week. The guests have valued the time to chat with neighbours, the church has built a sense of community within the village that just wasn't there previously. Barbara shared a wonderful anecdote about a lady who thought the group was called 'The Warm Hug', a wonderfully appropriate misheard description for the group, that is described as always being filled with laughter.
Tony has been fortunate to connect with other community groups and the parish council in Woodditton, sharing what was happening in church with churchyard conservation, bell ringing, children's work, and tower restoration project. These connections have now led to a wonderful collaboration, organising an upcoming traditional English village fete, with even more opportunities to make connections and build community.
Cathy told us about the transforming lives for good connection that they have made at Linton, providing activities and meals for families during the school holidays. Alongside messy church, bible steps and Friday morning assemblies, the church has been able to make meaningful connections with many families in the village, recently welcoming 26 children and their families to a recent service.
Stephen, who coordinates Day Chaplaincy at Ely Cathedral shared a taste of what a day of volunteering at the cathedral looks like. Day Chaplains greet visitors, listening to their concerns, encouraging them to engage spiritually with the Cathedral and use the opportunities for prayer and reflection that are available. They are additionally occasionally asked to lead Midday Prayers from the pulpit or to lead a short act of worship in St Catherine's chapel. Providing an invaluable resource for visitors to the Cathedral, Bishop Dagmar would like to encourage more LLMs to volunteer as Day Chaplains. If this sounds like something you might be called to do, you can find out more here.
Our LLM Vocation pages are designed to help support you understand more about becoming an LLM - what being an LLM in the Diocese means, what training as an LLM entails, what some of the LLM specialisms are - and how to start your journey.